A few weeks ago I told you about Intimina, an innovative company based on feminine hygiene products. Today I want to talk to you about their special offers designed for different types of women. The woman of today is very different from the woman of 30, 20, or even 10 years ago. Intimina Special Bundles.
Luckily, today's woman has reached the status of an entrepreneurial woman, a businesswoman who also cares about the environment. But the best thing is that the woman can be whatever she wants to be, a high-level sportswoman, a housewife, a business shark. That is why Intimina has designed different bundles with different products, adapting to the needs of each one.

8 Bundles For 8 Different Women
In Intimina they have detected 8 different types of bundles for 8 types of women, of course, there are many more, but possibly these 8 groups bring together the majority of situations that a woman may need. All of this is based on the needs of feminine hygiene, comfort, and the environment.
Lily the Gamechanger
High cervix and heavier flow? No problem, Lily Cup, AKA The Gamechanger to the rescue! Both sizes A and B roll as thin as a tampon and can be used for up to 10 years! This is your chance to find the perfect match and ultimate period security. Intimate Accessory Cleaner is here to keep everything clean and ready.
Wise Smize
This bundle is like warm and caring advice from your mom or best friend – you'll get everything you need for strength and period protection! KegelSmart for pelvic floor training, Lily Cup Compact A and B to be safe on the go, and Intimate Accessory Cleaner to make sure they're squeaky clean.
Pink Amore
With Lily Cup Compact, Ziggy Cup, and Feminine Moisturizer, you'll be able to give love to your body, the environment, and that one special friend in your life. Everything you need for that is here.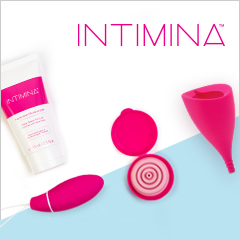 Urban Warrior
Everything a modern badass trooper needs. Lily Cup Compact and Lily Cup, Feminine Moisturizer, and Intimate Accessory Cleaner for the ultimate period security. If you're always out and about, this is the perfect choice for you – you'll never think about period protection ever again!
Activity Mode
You love sports, but you hate the stains on your workout outfits? Prevent it and stay confident whenever you workout! This bundle contains ultra-soft Lily Cup Compact, and Laselle set for Kegel workouts. For smooth and clean products wherever you are, there are Feminine Moisturizer and Intimate Accessory Cleaner.
Mama's Assistant
This bundle is everything you need after giving birth. Lily Cup as a reliable period solution, KegelSmart for pelvic floor strength, Feminine Moisturizer, and Intimate Accessory Cleaner to keep everything smooth and clean.
BFF Kit
If you and your friend, mom, sister, or girlfriend wanted to try INTIMINA cups, this is the perfect time to shop! This bundle consists of Lily Cup One for beginners and Ziggy Cup for those looking for something different! The bundle is complete with an Intimate Accessory Cleaner – so your cups can be used for years!
ABC kit
As simple as the alphabet! This bundle has everything you need while transitioning to menstrual cups. This is the ultimate kit, especially if you're always on the go – you're going to be covered on the days with both lighter and heavier flow. Lily Cup Compact A and B (so you can find your fav) and Intimate Accessory Cleaner to keep everything clean, wherever you are.